Early Settlement
The Borough of Yeadon evolved from the original occupation of the Lenni Lenape Native American group to the early colonial settlement of four different governments; first the Dutch, then the Swedes, then the English, and finally into the control of the Colonial American government. Yeadon thrived early due to its proximity to Philadelphia markets and the energy that Cobbs Creek and Darby Creek provided for industry. The early Swedes originally knew Cobbs Creek as "ill Kill" or Mill Creek, so named because of the location of a Swedish water mill at B Creek, built by Governor Printz in 1693.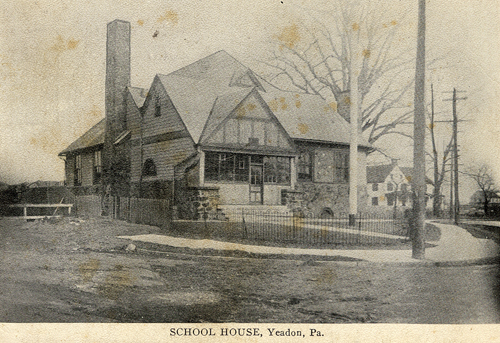 Many of its 17th century settlers were William Penn's land grant recipients. Names such as Blunston, Bonsall, Erickson, and Swanson were all 17th Century landholders in what is now Yeadon Borough.
Proof of early Colonial occupation still exists throughout Yeadon. Bonsall house of 1763, for example, still stands next to Blunston Creek (a tributary of Cobbs Creek) in the northern part of Yeadon. Also important of Yeadon history is the Palmer House. Built in 1774, the Palmer House still stands and is associated with an early northeast section of Yeadon once known as Palmer House was a local safe house for hiding escaped slaves during the 19th Century.
Early Yeadon
Much of Yeadon remained rural farming community through the early to mid-19th century. According to a map of Yeadon from 1875, there were 28 landowners; most with plots over 10 acres. The same map indicates that the early streets in the Borough were Church Lane, Fire Avenue (now Baily Road), Union Avenue (extending through Holy Cross Cemetery), Lansdowne Avenue, and an unidentified road that is now MacDade Boulevard.
The Borough was incorporated on December 18, 1893 and thirty of the thirty-seven landowners signed the applications for incorporation in order to separate from Darby Township.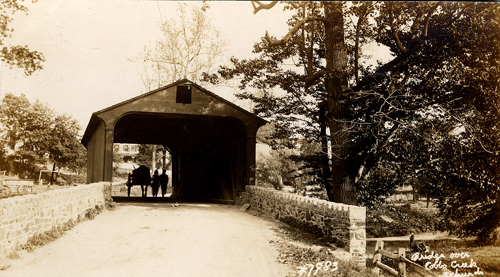 The name Yeadon evolved from an early settler, William Bullock, who owned land bound by what is now MacDade Boulevard, Church Lane and Baily Road. He named his estate Yeadon Manor, after his home in Yeadon England, which lent itself to the Borough name.
The crossroads of Church Lane and Baily Road has historically been the center of the Borough. The first school was built at this intersection in 1811 and was known as the Palmer School. A public school facility occupies one of the corners. At another corner is the Yeadon Borough Hall. The Borough Hall was built in 1937 with Works Progress Administration funding. The 1937 municipal building replaced a residential dwelling which up to that time, had been used as the Borough Hall.
Home of Flag Day
William T. Kerr, known as "The Father of Flag Day," founded the American Flag Day Association in 1888 and served as its president for 50 years. In 1916, President Woodrow Wilson proclaimed June 14th as Flag Day. Roughly thirty years later, President Truman signed the Act of Congress (House Bill 203), declaring June 14th a day of national recognition for the flag, with Kerr at his side, on August 3, 1949. William T.Kerr lived and adopted Yeadon as his hometown from 1928 to his death in 1953. In keeping true to Kerr's legacy, Yeadon community celebrates Flag Day like no other community. The celebration is a huge all-day affair.