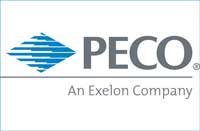 PECO Responds to Tropical Storm Isias
On Tuesday, August 4, our region experienced Tropical Storm Isaias, which ravaged the area with high winds and heavy rain. Some local areas experienced high wind gusts, which brought down trees, damaged buildings, and in more extreme cases, destroyed property.
As a result, electric equipment has been damaged, and is impacting electric service for 300,000 customers. Our crews are actively assessing the damage, and are focused on aggressively working to restore service to customers as quickly and safely as possible.
PECO's Emergency Response Organization is activated with crews working around the clock to restore service. We won't stop until every customer has their lights on. Thank you for your continued patience during these difficult times – we will power through this together.