Yeadon Police Announce "Chief for a Day" Contest for WPSD Students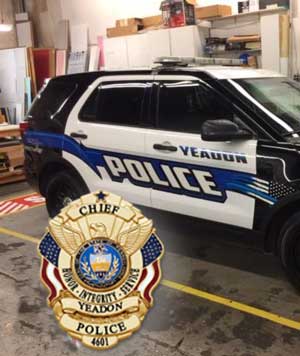 Students of the William Penn School District are invited to take part in Yeadon Police Chief Anthony Paparo's Police Chief for a Day contest.
All you have to do is take a picture of you showing or doing something positive. Get creative, use your imagination. Post the pic using the hashtag #YeadonPDContest
Follow the YPD on social media:
Instagram
Facebook
Twitter
The top three (3) pictures posted will win a day with Chief Paparo learning about what it takes to be Chief of Police. Winners will be contacted with a reply to their post, so watch closely to see if you have won. Contest is open to all students of the William Penn School District. Contest starts on March 21, 2019. Contest will end on April 21, 2019 with winners announced April 22, 2019. The winners will come to work on National Take Your Kid to Work Day, Thursday, April 25, 2019 to celebrate this positive national initiative (unless your parent is taking you to work, then we will set up another day!).
Winners will receive a Yeadon Police T-Shirt, patches, and lunch with the Chief, as well other prizes for their efforts. So get out there, do something positive and take a pic to show it, and/or get a pic with an Officer, and then post it to one of our pages. You might just have what it takes to be Chief of Police for a day.