Delaware County Offering COVID-19 Testing in Darby Week of January 18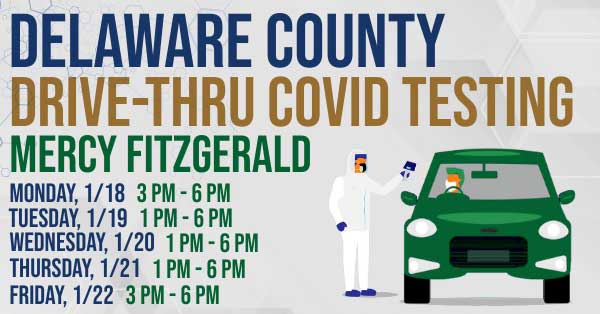 Delaware County will be conducting public drive-thru COVID-19 testing the week of January 18, 2021 at Mercy Fitzgerald Hospital in Darby.
Testing will be available for insured and uninsured individuals 12 years of age or older who live or work in Delaware County and have COVID-19 symptoms, were exposed to COVID-19, or are considered critical/essential workers.
Individuals must pre-register at www.delcopa.gov/testing to receive a test.
If you have health insurance, please bring your insurance card to the test site. However, there are no out-of-pocket costs or co-pays for COVID-19 testing. Masks or face coverings must be worn.
Darby
Mercy Fitzgerald Hospital
1500 Lansdowne Avenue
Darby, PA 19023
Monday, Jan 18: 3 p.m. – 6 p.m.
Tuesday, Jan 19: 1 p.m. – 6 p.m.
Wednesday, Jan 20: 1 p.m. – 6 p.m.
Thursday, Jan 21: 1 p.m. – 6 p.m.
Friday, Jan 22: 3 p.m. – 6 p.m.
Residents can call Delaware County's Department of Intercommunity Health at (610) 891-6129 with any questions regarding COVID-19 health services.
More information about these COVID testing events at DelcoPA.gov
COVID-19 Testing