Drive-Thru Pet Food Pantries for Families in Need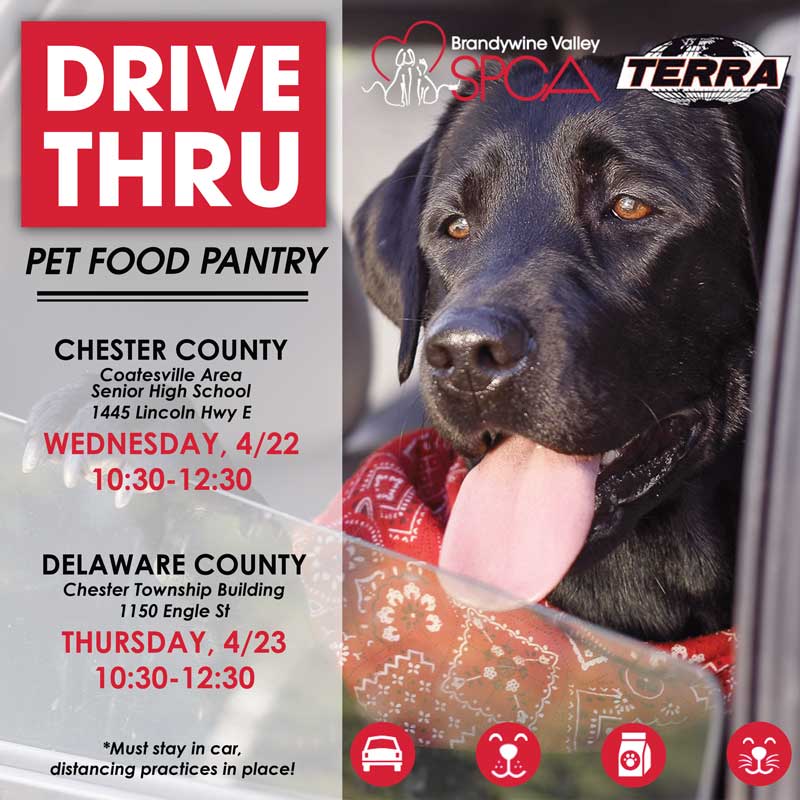 The Brandywine Valley SPCA (BVSPCA) has teamed up with Terra Technical Services to hold two drive-thru pet food pantries to help families in need. Free pet food will be distributed as follows:
Wednesday, April 22nd
10:30am – 12:30pm
Coatesville Area Senior High School
1445 Lincoln Hwy E, Coatesville, PA
Thursday, April 23rd
10:30am – 12:30pm
Chester Township Municipal Building
1150 Engle Street, Chester, PA
The pantry's drive-thru format requires participants to arrive in a vehicle, where they remain while BVSPCA staff requests, from a 6-foot distance, information on the household pets then loads the pet food in the trunk or hatchback. Food will be available for cats and dogs while supplies last. Food storage and transport has been generously provided by Terra, along with collaboration on pantry logistics.
The pantries are part of the BVSPCA's ongoing commitment to help prevent families from needing to surrender their beloved pets to a shelter for economic reasons. The Brandywine Valley SPCA has distributed more than six tons of pet food to families in need and sent four truckloads of pet food to other shelters for their pantries since the start of the pandemic. The BVSPCA has expanded its standard pet food pantry to be accessible anytime during shelter open hours: Tuesday-Friday 12pm-6pm, Saturday-Sunday 11am-5pm.
Donations to help the BVSPCA continue to supply pet food to families in need can be made at: https://bvspca.org/covidresponse/