History of the Haunted Hall: An Interview with Dan Wright, Public Works Supervisor
Since I've been I've here I've heard a lot about the transformation of the Borough Hall into the Haunted Hall for Halloween. This year the event was open to the public October 28, 29 and 30. I was curious about the many comments I heard so when the Public Works Department completed the set-up of the Hall, we took a stroll through the maze to see what everyone was talking about. I soon started wondering when all of this started and who is behind the scenes making it all happen. I asked around and found the one person who has been here from the beginning and here is his story In his Own Words.
– Ruby Payne
NJN & Associates, Inc.
Administrative Assistant

Q. Tell me who you are and where you work?
A. My name is Dan Wright and I'm going into my 47th year as a Yeadon Borough employee. I started out with the Public Works Department working with the trash department in 1973 where I worked for close to 10 years. In 1982, I joined the PW Highway Department and have been with that part of PW since then. I worked my way through and became PW Supervisor in 1992.
Q. Have you always been a part of the Haunted Hall experience and how long has it been around?
A. Yes. Mr. Pete Brusco and I started the Halloween Haunted Hall tradition many years ago. He came to the Borough as a consultant in 1992 around the same time I became Supervisor and we talked about doing something for Halloween for the children. We weren't concerned if it was a minor thing we just wanted to do something for the children. Initially, we just had someone in the Lobby of the 1st floor giving out candy. It then evolved into the beginnings of constructing a Haunted Hall. We made space right outside the Police Room and we started with 3 rows of scary things; we took the doors off, turned the lights out and had creepy cabinets and anything else scary. This 1st Haunted Hall experience was a huge success and we had 1000+ residents come through. After that, we did it again the next year and decided to move upstairs in the Hall Lobby. In the very beginning all the Council members got involved and would dress up and give out candy to the children. It was lots of fun. There was a lull after the 2nd year but somehow it got picked up again and has been going strong ever since. The growth has been phenomenal. Originally we'd put all the stuff together for 1 night. We then moved to having it for a couple of nights but about 4 or 5 years ago we added a 3rd night in order to give everyone, young and old, a chance to come through and experience the Haunted Hall.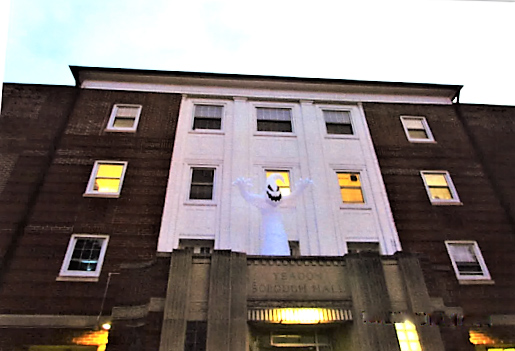 Q. When you had over 1000 children come through that first time, how did it make you feel?
A. It made all of us feel good. Originally there was talk about having it at the Nile Swim Club because of the trees and everything but due to the weather, should it rain, it was decided that it would be easier to have it downstairs in the Hall. I'm not a big Halloween person but it does feel good to have the kids come through and to give back to the community. We've seen kids come in off the buses just to go through the Hall and then get back on the bus to go wherever they were going.
Q. Why do you do it?
A. Well I enjoy it. We know the kids will come and even though some of the kids are little ones and some are big ones, I get a kick out of them saying I'm not going back in there and you get that feeling that you've just made someone smile because of course they went in again and again. I must say that The Haunted Hall is the one thing that brings more people to the Borough than any other event, even Flag Day. I remember as a kid that you always had a day where you dressed up and went to school and one year we had kids come over from the school just to go through and get the feel of the Hall and get some candy. We haven't done that for a long time but it would be good to bring it back if it were possible.
Q. How did you accumulate all of the different things to make the displays and how is it funded?
A. Every year, we add new things. The first couple of years we had some plywood so we put red paint on our hands and made a display and then after a while we would get more wood and other things around the shop and it just started growing. The event has always been free to the public and we don't accept any monetary donations. The one thing we have done is ask everyone to bring can goods for the cost of admission which we then turn over to the churches in the community.
Q. What is your favorite part about the Haunted Hall experience?
A. Just putting it together. Every year I walk through and say what can I do to tweak things or what can I do differently because after a while you have so many kids who have been coming for years and you want to give them something different that they've not seen before.
Q. Would you like to see the tradition continue?
A. I have no problem. I think it should continue. Even if we decided to charge a $1.00 or some nominal fee, I believe the kids would come.
Q. Is there anything I didn't ask you that you'd like the community to know about the annual Haunted Hall experience?
A. I would maybe like to see more of the community get involved. I think it could be bigger and should have more support because at the end of the day, it is something that can bring the community together while putting smiles on the faces of children.