Healthcare.gov Special Enrollment Period Now Open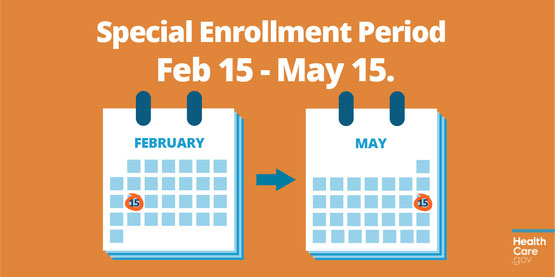 In response to the COVID-19 public health emergency, Healthcare.gov will be available for a Special Enrollment Period (SEP) from February 15 to May 15.
During this period, consumers in the 36 states served by Marketplaces that use the HealthCare.gov platform can apply for insurance or update an existing application, At least 13 States plus the District of Columbia, which operate their own Marketplace platforms, have decided to offer a similar opportunity.
Consumers who are uninsured can take this opportunity to look for coverage and find out if they qualify for financial assistance to help pay for health insurance by visiting HealthCare.gov or CuidadoDeSalud.gov or by calling the Marketplace Call Center at 1-800-318-2596, which provides assistance in over 150 languages. Consumers also can find a local assister or agent/broker in their area by visiting https://localhelp.healthcare.gov.