William Penn School District Free Grab-n-Go Meals – New Dates and Locations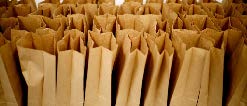 beginning Monday, November 2nd, the pick-up times and locations for families to pick up the Grab-and-Go Breakfast and Lunch will be changed.
The hours for pick up will be 11:00am to 1:00pm. The pick-up days will remain the same (Mondays, Wednesdays, and Fridays). Instead of picking up meals for one day on Fridays, three days' meals will be available on Fridays, allowing for students to have meals on Saturdays and Sundays as well.
There is a pick up location in each WPSD borough, including W.B. Evans Elementary School in Yeadon. Some previous locations will no longer be available based on the numbers of families picking up and the proximity to other pick up locations.
All families may pick up at any available location close to them.