Yeadon Borough Job Opportunity: Borough Manager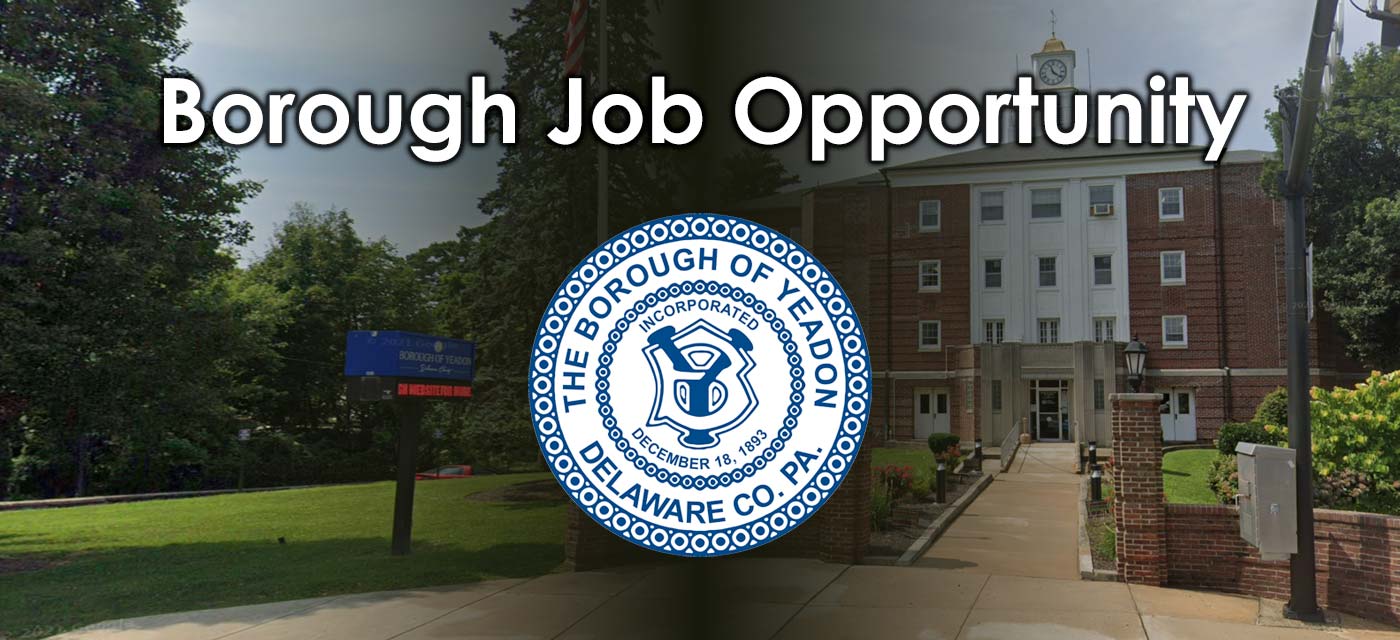 We are excited to announce a job opening for the position of Borough Manager at Yeadon Borough. If you are a dedicated and motivated individual looking for an opportunity to positively impact our community, we invite you to apply.
Download the Job Description shown below as a PDF
JOB TITLE: Borough Manager
Department: Administration
Reports to: Borough Council
Date: September 2023
Job Description:
This is an advanced level administrative position in the Borough of Yeadon and shall oversee all administrative management and functions of the Borough. Assignments are varied and require the application of independent thinking, initiative, and organization as well as advanced problem-solving abilities. Work involves daily contact with Borough residents, elected officials, members of the business community as well as frequent interaction with all levels of Borough staff. The Borough Manager shall be the chief administrative officer of the Borough. The Borough Manager shall be chosen solely based on his or her executive and administrative qualifications, with special reference to his or her training and/or experience in municipal management.
Primary Responsibilities:
Be responsible to Council for carrying out all policies and programs established by Council.
Direct and supervise the administration of all departments and offices of the Borough, except as otherwise provided by law.
Approve the disbursement of funds appropriated by Council and report to Council on such disbursements at regularly scheduled Council meetings.
Appoint and, when he or she deems it necessary for the good of the service, suspend or remove Borough employees and appointed officers, except police, on the basis of merit, except as otherwise provided by law.
Work in collaboration with Borough Solicitor and Borough Engineer.
Make such recommendations to Council concerning policy formulation as he or she
deems desirable.
Prepare and submit the annual budget to Council together with such explanatory
comment as he or she may deem desirable and administer the approved budget.
Keep Council and the public informed as to the conduct of Borough affairs.
Prepare the agenda and attend all meetings of Council with the right to take part in
discussion when recognized by the President of Council.
Negotiate contracts for the Borough and sign such contracts on behalf of the Borough
upon the approval of Council as authorized by law.
Perform such other duties as are designated by Council.
Required Knowledge, Skills, and Abilities
Proficient in basic math skills;
Strong computer skills in Microsoft applications;
Ability to use office equipment, such as computers, telephones, copiers, and calculators;
Ability to keep sensitive and privileged information confidential; and
Excellent interpersonal skills and ability to be courteous and respectful while dealing with the public.
Preferred Minimum Training and Experience
Associate's Degree (preferred);
Excellent customer service and communications skills;
Familiarity with Microsoft applications; and
At least five years of experience working in municipal government and/or as a management.
Physical Demands
Lifting no more than 20 pounds at a time with frequent lifting or carrying of objects weighing up to 10 pounds. Walking or standing is often necessary in carrying out job duties.
Working Conditions
Most work is done in an office environment. There may be occasional exposure to temperature extremes, dust, and outdoor events with some evenings and weekends.
Other Requirements
Submit all information necessary for a background and credit check; including but not limited to, a child abuse clearance from the state of Pennsylvania;
Submit to a drug test at time of hire and periodically during employment; and
High energy and self-motivated and needing minimum supervision to complete tasks.
To Apply:
To apply for this exciting opportunity, please email your resume and a cover letter detailing your relevant experience and qualifications to info@yeadonborough.com. Please include "Borough Manager Application – [Your Name]" in the subject line of your email.