Participants Wanted for Second Annual Citizens Police Academy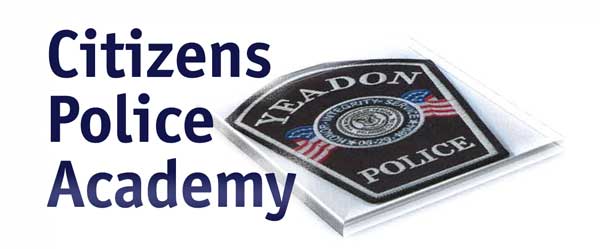 Yeadon Police Department proudly presents the Second Annual Citizens Police Academy beginning March 4, 2020 and ending with a graduation on April 16, 2020. Classes will be held at Yeadon Borough Hall, every Wednesday from 6:30 pm to 8:30 pm. The academy is free, and class size is limited to 20 residents of Yeadon. Applications from outside jurisdictions will be accepted on an available seating basis.
The Yeadon Citizens Police Academy will create a challenging atmosphere, and provide residents/cadets with an inside look at what it takes to be a police officer. This program will create confidence, self-discipline, physical security and fitness awareness, and foster team-building mindsets, while bringing you into the world of policing. Instructors are police officers with a strong desire to open lines of communication with those we swear to protect and serve, to create positive police and public interactions, so that a deeper understanding of policing can serve to foster a stronger bond with citizens and their police officers.
Applications must be submitted by Monday, February 18, 2019 for consideration. Hard copies are available at Yeadon Police HQ. Once registered, you will be notified of your approval for the course, a week prior to the class start date.
To learn more, download the complete course program, terms, and application.
Applications may be submitted via emailto apaparo@yeadonpd.org or drop off your application in person to Yeadon Borough Police Headquarters.
Questions about the program? Please contact Chief Paparo at 610-623-7611.
Deadline for applications is Monday, February 24, 2020